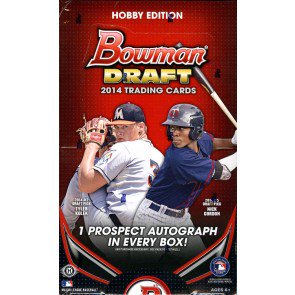 We have 12 in stock.
Configuration: 24 packs per box. 7 cards per pack.

Each year, the MLB Draft kindles the hopes of baseball fans and collectors alike, by introducing a new set of potential stars. Yesterday's high school phenoms and overnight into the collecting spotlight. 2014 Bowman Draft delivers by showcasing the very first cards of these future stars in their MLB uniforms! This year's set will also feature jaw-dropping new analytics designed to bring each collector closer to the game. Additionally, the 2014 set will include a new Bowman Initiation insert that features the most collectible MLB Draft Picks collegiate superstars are propelled and commemorates their induction into the Bowman portfolio. Who will be this year's breakout performer? Don't miss your chance at prospecting glory!

PRODUCT HIGHLIGHTS
- One Chrome Autographed Card Per Hobby Box!