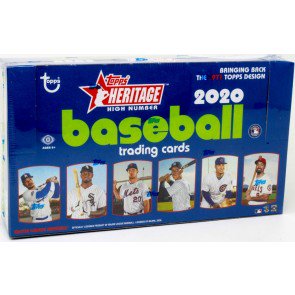 We have 1 in stock.
Configuration: 12 boxes per case. 24 packs per box. 9 cards per pack.
COLLECT ALL THE IN-SEASON ROOKIE CALL-UPS AND TRADED PLAYERS TO FINALIZE YOUR SET WITH 2020 TOPPS HERITAGE HIGH NUMBER BASEBALL.
This set contains Real One Autographs, Clubhouse Collection Relics, all-new inserts, and additional cards celebrating the 1971 and 2020 seasons!
EACH HOBBY BOX WILL GUARANTEE 1 AUTOGRAPH OR RELIC CARD!