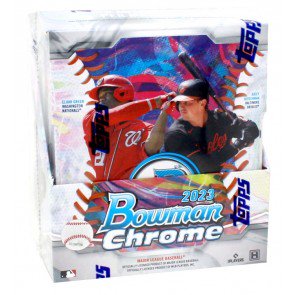 We have 10 in stock.
Configuration: 12 packs per box. 5 cards per pack.
PRODUCT HIGHLIGHTS
- 2023 Bowman Chrome rolls out the red carpet for another stellar prospect class from around the globe!
- Build the entire 100-card Base Set of top rookies and veterans and 100-card Chrome Prospect set!
Box Break:
- 2 Chrome Autographs
- 1 Prospect Shimmer Parallel
- 1 Prospect Process Insert