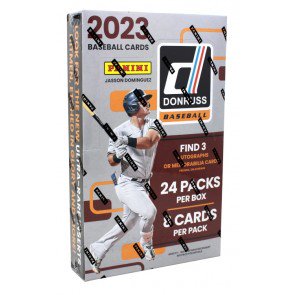 We have 96 in stock.
Configuration: 24 packs per box. 8 cards per pack.
PRODUCT HIGHLIGHTS
- Donruss Baseball returns in 2023 with a set full of top prospects, Hall of Fame players, and legends of the game!
- Look for an array of inserts including Marvels, Bomb Squad, and new Inserts like Mr.3000 and Cooperstown!
- Collect autographs from rising stars and legends in Monikers, Signature Series, Superstar Scribbles and more!
- Hunt for the ultra rare "The Mick" insert along with Naturals, Whammy, and Superstar Skylines!
- Find 3 Autographs or Memorabilia per box on average!
BOX BREAK
- 3 Autographs or Memorabilia
- 24 Hbby Exclusive Holo Blue Parallels
- 4 Independence Day Parallels
- 1 Liberty Parallel