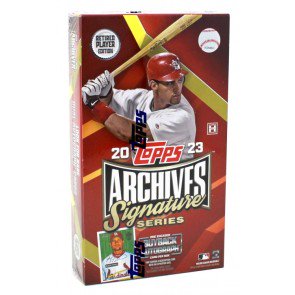 We have 19 in stock.
Configuration: 1 pack per box. 1 card per pack.
PRODUCT HIGHLIGHTS
- Topps® ArchivesTM Signature Series – Retired Player Edition brings about another year of on-card buyback autos featuring a checklist packed with fan favorites, retired players and all-time legends!
- Topps Archive Signature Series continues its hallmark of having all cards hand-signed, serially numbered, gold-foil stamped, and enclosed in a Topps Authenticated casing!
- Look for all-new HOF foil stamps denoting a player's enshrinement in Cooperstown!
Box Break:
- 1 Encased Buyback Autograph (Stamped and #'d)