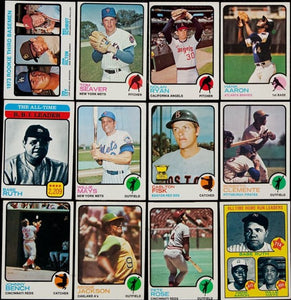 We have 1 in stock.
The final year Topps issued a High Series, the 1973 Topps Set is topped with a Mike Schmidt High Number Rookie. Card numbers 529 through 660 are all in the High Series. Harder to find and considerably more per card, this High Series features not just the Schmidt, but all other rookies, plus the elusive #588 checklist. Plenty of other goodness, including final cards of Roberto Clemente and Willie Mays.

We try to keep key cards consistent with overall condition. Key cards may be lesser condition, but will not be far off. #615 Mike Schmidt will average EX in these sets.

All cards 1 - 660 are included and shipped numerically.