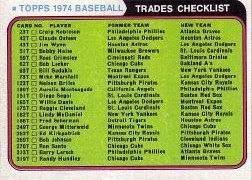 We have 19 in stock.
The 1974 Topps Traded Baseball Card Set contains 43 cards and an unnumbered checklist. The cards were included as inserts along with the 1974 Topps Baseball Cards and have the same card number as the player's card in the main 1974 Topps set, but with a T following the number.
 This was the first traded set and featured players who were traded in December.  The cards feature "head shots" of the players, with either no hat, or a painted on hat.  Featured cards in the 1974 Topps Traded set include: Felipe Alou, Juan Marichal, Lou Piniella, and Ron Santo.