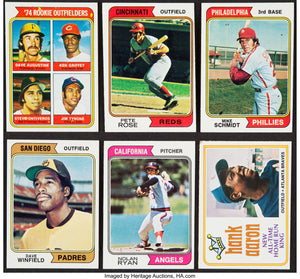 We have 1 in stock.
Celebrate Hank Aaron's Home Run Crown with this 1974 Topps Baseball Set. Dave Winfield, and Dave Parker "The Cobra," Ken Griffey senior rookies are included in this set. Mike Schmidt's 2nd year card and an abundance of baseball legends capture the excitement of this set.

We try to keep key cards consistent with overall condition. Key cards may be lesser condition, but will not be far off.
All cards 1 - 660 are included and shipped numerically.