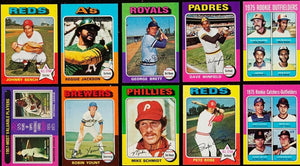 We have 3 in stock.
Oh man. Not only does this set resemble a rainbow, but the trove of goodness at the end of it makes this one of the most desirable sets of the 1970's. Rookie hunters find George Brett, Robin Yount, Jim Rice, Gary Carter, and several other notable rookies. Mickey Mantle and his MVP commemorative cards, plus a lot more excitement in the beautifully-colored set.

We try to keep key cards consistent with overall condition. Key cards may be lesser condition, but will not be far off.
All cards 1 - 660 are included and shipped numerically.