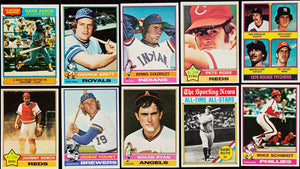 We have 3 in stock.
Probably the most lack-luster set of the 1970's in regards to rookie class. You will find 2nd Year cards of George Brett and Robin Yount, and plenty of other stars and Hall of Famer's.

We try to keep key cards consistent with overall condition. Key cards may be lesser condition, but will not be far off.
All cards 1 - 660 are included and shipped numerically.