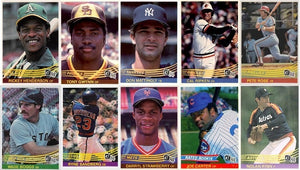 We have 1 in stock.
1984 Donruss Baseball is a 658-card set with 651 player cards and seven checklists. The design breaks away from the ones used in the previous two seasons. The bat-based nameplate is replaced by a bolder white wave that has the team name and Donruss logo. The player's name is underneath. Strong photography, particularly when you compare it to the pictures used in other early Donruss sets, also increases the set's appeal.
The Don Mattingly rookie card is easily the most popular card in the set. In fact, it's one of the most recognizable rookie cards of the decade.
Other rookies include Joe Carter, Andy Van Slyke, Ton Fernandez, Sid Fernandez and Ron Darling. Also, many treat the Darryl Strawberry card as a rookie. His first MLB card appeared in 1983 Topps Traded.
1984 Donruss Baseball isn't without its quirks. All 26 of the Diamond Kings have two versions. Initial versions display Frank Steele's name spelled "Steel." The error was created, leaving 26 variations. The corrected versions are tougher to find and, generally, carry a little more value. Mike Stenhouse, card #29, can be found with or without a number on the back. Card #30, Ron Darling, has a similar variation.
The checklist configuration is fairly standard for a 1980s Donruss release. The painted Diamond Kings lead off the set. They're followed up by 20 Rated Rookies. The main part of the set doesn't have any other subsets, although there is one non-player card. The San Diego Chicken bookends with the final card.