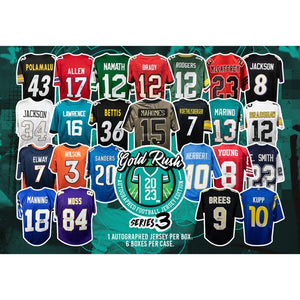 We have 2 in stock.
Configuration:
1 autographed & authenticated football jersey per box.
Following an exciting draft and big moves around the league, 2023 Gold Rush Autographed Football Jersey Edition Series 3 arrives to get you even more hype for the upcoming NFL season! Find autographed jerseys of iconic Hall-of-Famers, current superstars, and promising rookies! Chase the game's most prominent players and fan favorites in a loaded 100-player checklist! Breakers and collectors alike will enjoy representation from all 32 NFL teams across a variety of pro and collegiate jerseys. All jerseys include authentication from an industry professional such as Beckett, Fanatics, JSA, or PSA.
Lookout for highly sought-after stars, such as:
Tom Brady
Aaron Rodgers
Patrick Mahomes
Peyton Manning
Russell Wilson
Ben Roethlisberger
Trevor Lawrence
Josh Allen
Cooper Kupp
...And many more!