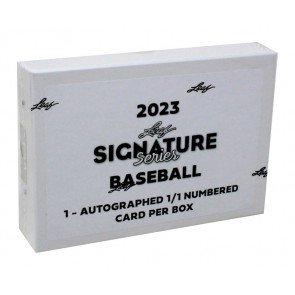 We have 8 in stock.
Configuration: 1 pack per box. 1 card per pack.
PRODUCT HIGHLIGHTS
- Leaf is pleased to announce the return of Signature Series to the Leaf Baseball lineup!
- Every 2023 Leaf Signature Series Baseball Box includes a 1/1 signed card!
- This checklist not only includes an incredible roster of rookies, veterans, and legends, but also includes Dual Autograph cards as well!!
Box Break:
- 1 Autographed 1/1 Card