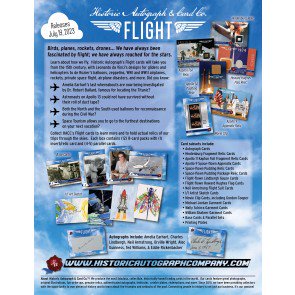 We have 18 in stock.
Configuration: 12 packs per box. 8 cards per pack.
PRODUCT HIGHLIGHTS
- Historic Autograph's Flight cards will take you from the 15th century, with Leonardo da Vinci's designs for gliders and helicopters to de Rozier's balloons, zeppelins, WWI and WWII airplanes, rockets, private space flight, airplane disasters, and more.
- Collect HACC's Flight cards to learn more and to hold actual relics of our trips through the skies.
Box Break:
- 1 Insert or Relic
- 4 or 5 Parallels