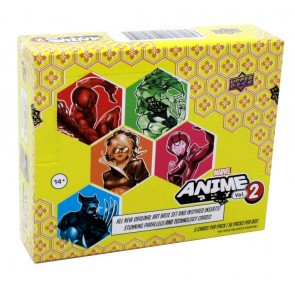 We have 0 in stock.
Configuration: 16 packs per box. 5 cards per pack.
PRODUCT HIGHLIGHTS
- Upper Deck presents the return of Marvel Anime with Volume 2.
- This trading card sets features original art from various visual artists capturing the look and feel of the very popular Anime and Manga genre.
- This set if full of colorful imagery and eye catching content!
Case Break:
- 2 Chibi Cards
- At least 2 Hanafuda Cards
- 1 Hanafuda Booklet
- 3 Stax SP inserts
Box Break:
- 4 Thatched Foil Board Parallels
- 2 Japanese Megamoon Parallels
- 4 Insert Cards from the following: Kodomomuke, Power Level, Wolverine's Journey, Kaiju Battles
- 1 Artist Auto or Woodblock
- 1 Capsule Card
- 1 From the following: Chibi, Hanafuda, Stax SP, Sketch or Booklet