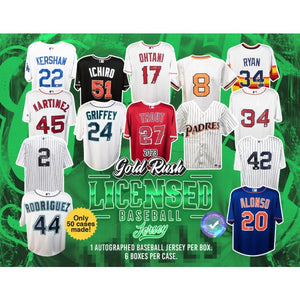 We have 5 in stock.
Configuration:
1 autographed & authenticated licensed baseball jersey per box.
Get into the swing of baseball season with 2023 Gold Rush Autographed Licensed Baseball Jersey Edition! Find autographs from some of today's top MLB stars, along with fan favorites and Hall of Famers, in a stellar 50-player checklist! Look for jerseys from major brands like Majestic, Nike, and more that feature your favorite team names and logos! Each jersey has been authenticated by an industry professional such as Beckett, Fanatics, JSA, or PSA. Don't strikeout on this limited release of 50 hand-numbered cases!
Lookout for these heavy hitters in the lineup:
Derek Jeter
Mike Trout
Julio Rodriguez
Shohei Ohtani
Ken Griffey Jr.
Clayton Kershaw
Mariano Rivera
Tony Gwynn
Nolan Ryan
...And many more!