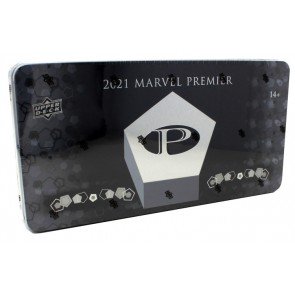 We have 0 in stock.
 CONTACT US FOR PRICING

Each pack comes in a collectible tin which also contains 1 booklet, 3-panel, 4-panel, or 5"x 7" oversized original 1-of-1 sketch cards! Collect the 50 Card Base Set, numbered, with all new original art! Look for 5 tiers of numbered Base Set Parallels, each varying in rarity!
Blue Deco Foil
Red Deco Foil
Gold Spectrum Foil
Purple Spectrum Foil
Black #'d to 1 o Discover a Base Set Variant card with 1 of 1 Sketch Art backgrounds!
Search for Shawdowbox cards with replicated pieces of classic art paired with a Marvel Hero characters!
Find SP and SSP versions of these Shadowbox cards!
Grab Breakout insert highlighting character charging through walls!
Discover SP and SSP versions! 
TIN HITS (ON AVERAGE)
1 Booklet, 3-Panel, 4-Panel, or 5" x 7" Oversized Sketch Card
1 Base Set Character- inspired Sketch Card