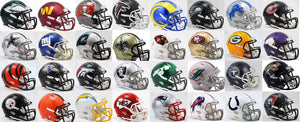 We have 1 in stock.
THESE WILL BE AVAILABLE AT BOTH TJT The Store and TJT The Show.
* WEEK 2 UPDATE *
FIRST PERSON TO COMPLETE ANY DIVISION WILL RECEIVE A $50 GIFT CARD INSTEAD OF $10! PLUS, SOME TEAMS WILL HAVE AN ADDED BONUS!
DIVISION BONUS IS FROM THIS AND PREVIOUS WEEKS. ALL TEAMS TRACKED!
Just like a repack, you'll select a box (see above for PICK YOUR BOX!). Inside every box will be one mini helmet. You will receive that mini helmet! However, if that team wins that week you will also receive a TJT $20 gift card!
Ideally all 32 spots sell meaning 16 $20 gift cards will be paid out every week.
* BYE WEEK TEAMS WILL NOT BE OFFERED.

If your team loses, you'll still get the mini helmet!

Buy as many as you want every week!
Program resets EVERY week on current schedule.

BONUS OPPORTUNITIES:

1. We will track all teams/buyers.

2. If you collect all the teams from one division (through this program), you'll receive a bonus $10 TJT gift card. That's for as many different divisions as you collect. No limit as it is possible to repeat divisions.

3. If you collect an entire conference you'll receive a bonus $20 TJT gift card. That's on top of the $40 TJT gift cards from the divisions.

4. If you collect all 32 teams you'll receive a final bonus of $100! That's after collecting all of the above too!

* WE WILL TRACK ALL TEAMS/BUYERS AND WILL SEND GIFT CARDS ONCE A NEW BONUS LEVEL IS COMPLETED.
Remember, if your team wins you'll receive a mini helmet plus $20!

There is NO limit on bonuses.

FYI, I've already done the math. If you buy all 32 spots in any given week, you'll get all the bonuses, and paying right around $22 per helmet.

**** THESE ARE UNSIGNED HELMETS ****
However, signed ones may sneak in if this takes off.

Each week all active teams will be repackaged with marking indicating Week # and Box #.  i.e. 3 - 14 is Week 3, Box 14.

We may also have special weeks with limited series helmets, double payouts, etc!