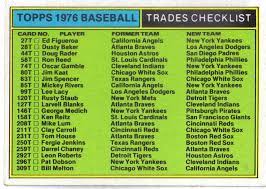 We have 19 in stock.
The 1976 Topps Traded set contains 43 cards and an unnumbered checklist. The set features 43 players traded after the regular set was printed.
The front of each card features a photo of the player with a "Sports Extra" footer listing the team and date of the trade. The card backs give the trade details in newspaper format. Each player's card number corresponds to his card number in the 1976 Topps regular set with a "T" following the number.
Featured players in this set include: Dusty Baker, Jim Katt, Fergie Jenkins, Bobby Bonds, Rusty Staub, and Willie Randolph. The overall condition of the cards in this set Ex Mt. Please keep in mind that this is an overall grade and does not represent the grade of every individual card in the set. As with any set, expect some individual cards to grade higher and some lower than the overall set grade. This set shows very little wear and would make a great addition to any collection.