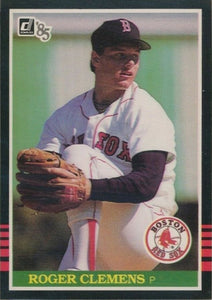 We have 2 in stock.
1985 Donruss Baseball has one of the company's more distinct designs. Boasting striking black borders, the large checklist is led by some of the first cards from two of the decade's biggest superstars. It may not have quite the same pedigree as the previous year's set, but it still ranks among the company's best.
1985 Donruss Baseball sticks with the 660-card checklist that was standard for the company at the time. This includes 653 numbered cards and seven checklists. The set kicks off with 26 Diamond Kings, once again featuring the artwork of Dick Perez. These are followed up by 20 Rated Rookies, the best of which is Shawon Dunston. The highlights of the checklist are Roger Clemens and Kirby Puckett, both of whom come much later in the set. Although both are featured in 1984 Fleer Update Baseball, many consider the cards to be rookie cards. 1988 National League Cy Young winner, Orel Hershiser, has a rookie in the set as well.
The black borders make the set extremely condition sensitive. Even the smallest dings show up clearly. As a result, highly rated professionally graded cards command a premium on the secondary market.
All cards 1-653 are included and shipped numerically.